PICCOLI(Kid's Library) Instructions
PICCOLI was founded in 1978, around the same time as the university campus was established, with the aim of raising children in an environment full of hope and dreams.
The library, with a collection ofpiccoli picture books and children's literature from Japan and around the world,is open to children, students, and the general public as the Kid's Library Division of the Art and Culture Information Center.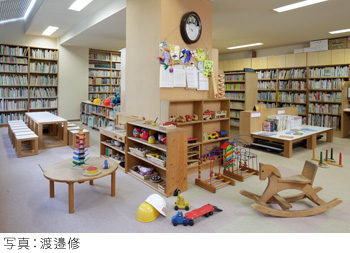 How to use PICCOLI
Enter the library
・Anyone may enter Piccoli with no charge.
・Reading books an'appreciatin'AV materials on openshelves.
How to Borrow books
We issue library cards with no charge.
Please apply for our registration at the counter.
・Bring the material with your library card to the counter.
(up to 5 books for 2 weeks) ・You can appreciate AV materials only in our library.
Return
Please return books to the counter prior to the due date. We have no return post.
Events
You can join us for various events.
STORY TIME
(Sundays 15:30-16:00)
Join us for picture books, stories, hand-rhymes, and more.
POOH-YOKOCYO STORY CLUB
(2nd Sunday 15:30-16:00)
presented by the member of 'Kyoto Storytelling Club'.
BOOKTALKING TIME
(Saturday/Once a month 15:30-16:00)
We introduce some picture books and science books on a certain theme.
TOTTO CLUB
(Friday/Biweekly between 10:30 to 12:00)
A communicating time for 0-3 years old children and their parents.
Enjoy baby toys, picture books, and chatting.
Last 15 minutes, Join us for a story time.
CRAFT TIME
(Saturdays between 13:30 to16:00)
Join us for a fun Handicrafts.
*Parent's help should be required for preschool children.
MOVIE DAY
(check our informations)
We show some movies on the hall with big screen.
Manners
+ Handle all the materials and utilities with care.
+ If you lose, stain, and break equipment, we might request you to cover repair costs.
+ Food and drinks (including PET bottles) , handheld game console are not permitted.
+ Keep off our any campus site an' buildings.
+ Preschool children must be accompanied with parents.
+ If you do not observe rules and manners, we might request you to leave, and refuse to use thereafter.